Boots. It's a current fashion trend. It's a trend that I LOVE. However, I have had the most ridiculously difficult time finding boots that fit… See, I have a problem. It's called Gigantic Calfitis… It's true. I have big calves. My entire life I have been, shall we say, a "stocky" girl. I'm an athlete, and my muscles don't disappear! I am short, I am by no means fat, but I am not skinny minnie – which is who these boots are made for. Unless you have calves that are not a comparable size to your equally gigantic thighs – it will be nearly impossible to find boots that fit. And forget tucking your boots into your jeans! It's just not happening… So I did some research. I have now found 2 pairs of boots that I LOVE, and can wear without suffocating my calves and giving myself muffin top of the knees! That's not cute on anyone.
Steve Madden: Intyce (retails at $149.95)
When I bought these boots at the Steve Madden store, they were able to add another notch into the buckle. This helped MILLIONS. Did you know that they would do that? Next time you find boots you love with a buckle, but they are just a bit too snug at the top, ask for another notch!
Motorcycle Boots (Frye $218.00 at Belk)
These are not the exact boots that I have, but they are so close it's scary! Motorcycle boots are rough & tough, and usually made with a wider opening at the top. When you ride a motorcycle, you need to be able to tuck your pants legs into your boots (practicality and style – what more could you ask for?!). And you'll look like a chick who can kick some ass in these bad boys!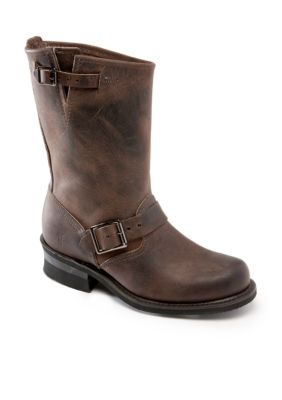 Steve Madden: Prepie (retails at $79.95)
 I'm hoping to get these boots in the VERY near future!
Why I think these will work: they have a wider opening in the top, and a buckle. I can add a notch to the buckle to make the boots a little bit more loose if necessary. I am going to wear my skinny jeans to purchase these, just to make sure I don't waste money on boots that won't fit!
My tips for buying boots if you have big calves like me:
Look for a boot with a wider opening in the top. Some come with a cut in the back that also helps make them fit better.
Find a boot with a buckle – and ask to add an extra notch!
Don't try to cram your lovely legs in to something that you know won't work. You can follow the trend without looking like you have sausage legs!
Wear the jeans that you will wear with your boots when you go shopping. Then you'll know FOR SURE if they will work!
I hope that this helps someone! Sometimes you just have to OWN your legs – and realize that they won't fit into every pair of boots that you want … but just like boys, the right boot is out there!
If at FIRST you don't succeed, keep up the boot search, like Jenna.